In the times today, artificial flowers are replacing real ones in many places. Because of this, it won't be wrong to say that faux flowers are the new fresh. There are many reasons for this theory. In this piece, you will come to know why more and more people are using artificial flowers instead of real ones. So, let's start with a discussion of some major advantages of plastic flowers.
Major Advantages Of Using Artificial Flower
These advantages of artificial flowers will make you understand why is it that these plastic flowers are becoming the choice of many over real ones.
Easy & Hassle-Free Choice
Whenever there is a celebration, we all know that the flowers become an integral part of decorations. Thanks to the plastic faux flowers, it has become really easy and hassle-free to shop for the flowers. With so many options to pick from and no conditions are there say, about shopping them the same day so that they are fresh and all, one can order these flowers online without any trouble.
We all know that there is a possibility that people might be allergic to any or some kind of flowers. This can be easily avoided with the use of artificial flowers in place of the real ones.
Some Stunning Artificial Flower Bunches You Should Buy – 
Cost-Effective | Benefit of Artificial Flowers
Real Flowers are one of the most expensive things in the market as they are collected from different regions and are arranged in the beautiful bouquets. Unlike real flowers, these artificial faux flowers are quite pocket-friendly. So, if you are looking for an alternative to the real flowers, these plastic faux flowers are the best option for you.
Unlike real flowers, the life of plastic faux flowers is much longer. Where the real flowers tend to die in a few days or a few weeks, these faux flowers can last forever, making it one of the smart choices when it comes to decoration. No matter what you are looking for whether it is for party decoration, wedding decoration, or bouquet gifts, artificial flowers can be used everywhere.
Real flowers need a lot of maintenance as they need regular watering and care. Thanks to the introduction of artificial flowers, you won't have to worry anymore about these things. As we discussed they last longer than real flowers, therefore, it won't be necessary to go with a weekly replacement.
Best Flower Sticks You Should Buy –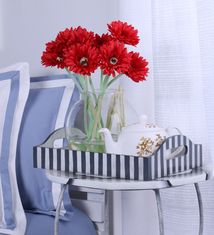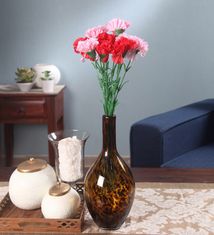 In case you are looking for artificial faux, silk and other material flowers, picking from our collection of flower bunches, flower sticks, and floating flowers. We at 1st Home, have a collection of best designer artificial flowers that are best used for home decor or party, and wedding decorations. These flowers are available in multiple colors and shapes. We at 1st Home ensure that all the flowers we have look realistic and have high-quality.